Nicușor Dan
I usually don't write about subjects or people, cause I'm not a journalist, but here is a particular case that touches me and which in a way have initiated the Ro-Activ Project. You can find all the information about Mr Dan on the web so I will for once just make a fast summary about my perspective.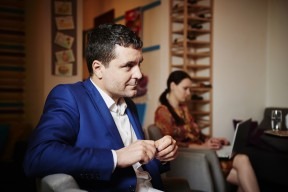 I met Nicușor Dan in Paris a bit before 2012's election for city council in Bucharest, he was and he is still, from my point of view, the example of the kind of people we should find in our government institution. Someone smart, highly educated, obviously not interested in politics in the sense that he is not careerist coming from a school of bullshit, excuse my French, but dedicated to creating, upgrade and sanitize the institutions that organize our life.
Let's start with what people are reproaching him.
The lack of ability in public speaking, well that means that he is not going to rock the crowds with lies, that's good for me; that he is a lonely geek, well I love those guys that usually know they shoot, and how to find a good solution at big problems.
Now let see what I like even more:
He studied in France at "École Normale Supérieure", well he adapted to France and decided to go back to Romania when people was still splitting of the country, which is impressive. He opens a mathematical school in Bucharest in order to share and educated people. This presents a kind of mindset that need a country like Romania, where many people are still selfish and have problem to collaborate.
For almost 20 years, he has been involved in social activism, the first organization he created 1998 was dedicated to empower young people for them get into social action. Then he created the NGO "Save Bucharest" in 2006 in order to save the architectural heritage of the Romanian capital. Some people are accusing him to block the development of the city, let's be honest, he might slow down the real-estate business in the capital, where be sure a lot of offshore investment companies have put money, but I never heard in any city I visited a tourist complaining about architectural heritage, and a city which was called in the past the little Paris, might make a lot of money with a good rehabilitation of the city's old masterpieces.
And now for the second time he is running for the chair of mayor of Bucharest, part of his program Creative industries, new technologies, free space for start-up, rehabilitation of the city, university, revitalization of the cultural domains…. I invite you look at his program, it's exciting. And of course he refuses to make to ally with other parties, to keep his freedom of action.
So yes, he is kind of Hero, and people can see it, that's why they keep volunteering to help him doing his campaign, which he runs almost without money, compare the big political parties.
I hope the best for his campaign, even if it's going to hard this time again.